Cameron and Ramak share poems and talk art. Who is this 'Persian' and this 'Poet'? Ramak Bamzar is a conceptual photographer who recently completed her Masters in Fine Arts at RMIT. She has always had a love for poetry and she's 'The Persian' of this duo, having moved to Melbourne from Iran 12 years ago. Cameron Semmens is 'The Poet' of this team with 30 years experience on the stage and the page, with 27 books to his name. As well as being relentlessly poetic Cameron also does book design, well-being facilitation and training to be a professional counsellor. Their websites: www.ramakbamzar.com www.webcameron.com
Episodes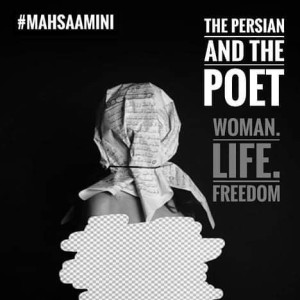 Sunday Oct 30, 2022
Sunday Oct 30, 2022
24... Woman! Life! Freedom!
Ramak and Cameron discuss the situation in Iran as of Oct 2022, and explore their creative responses to the situation.
Poem 1: 'Say Her Name' written by Cameron Semmens, September 2022. Spoken by Cameron Semmens and Ramak Bamzar. Poem 1 music: 'Lovely Bones' by Natalie Jeffreys. https://www.facebook.com/natalie.jeffreys
Poem 2: 'Soil' by Adib al-Mamalek Farahani (1860 - 1917), an Iranian poet, writer and journalist. Poem 2 music: 'Clouds' by Rod Gear, from the album 'The Wood That Sings'.
Production and editing by Cameron Semmens : www.webcameron.com 
Graphic design by Ramak Bamzar : www.ramakbamzar.com 
For all things 'The Persian and The Poet', go to : 
https://www.facebook.com/thepersianandthepoet 
Comments
(1)
To leave or reply to comments, please download free Podbean or